▶︎ Format: self-paced online course
▶︎ Level: advanced
▶︎ Duration: 3.5 hours
▶︎ Language: English
▶︎ Certification Points: 25 points ★

Understand the complete workflow of how to create high-impact renders of your projects with Archicad's built-in rendering engines. Learn to prepare your project from applying surfaces, through setting up composition and lighting all the way to configuring the rendering engine according to your needs.

Use the 'FORWARD' coupon code for 20% discount if you are a FORWARD/SSA client!

Learning Outcomes
By the end of the course, you will:
Prepare your 3D model for rendering
Light your scenes
Configure the rendering engine of your choice
Use the best materials and change them is needed
Target Audience
This course is for Archicad users who are confident modelers, understand the steps of the documentation workflow and familiar with the basics of visualization but would like to enhance their skills to create professional images with the built-in Cineware rendering engine.
Quizzes and Tests
You will have access to a related quiz and practical test upon completing the relevant content, and you will also have the opportunity to retake them before completing the course. To earn points towards your Archicad BIM Author Certification, achieve a minimum score of 60% on both the quizzes and practical tests and complete the satisfaction survey.
Software Requirements
The exercise file in this course have been created using the International language version of Archicad 26 which means that the work environment and some of the content may be different if you are using a different language version. To be able to follow along with the trainer, please make sure to download Archicad 26!
Recommended Learning
We recommend you to complete the following courses in order to be able to actively follow the trainer's presentation and demonstrations in Archicad:
Access Time Frame
You can access the course materials for 365 days, counting from the first login to the course. Within this time, you can access the course's assessments, download the exercise files and handouts or watch the recordings. After this, you will be deactivated from the course and will not be able to access any course materials.
Awards
Completing the course material, including the quizzes and assignments with a minimum score of 60% achievement and filling out the satisfaction survey, will award you points towards achieving the Archicad BIM Author Certification and a Certificate of Attendance in issues automatically in PDF format. 
Developed by: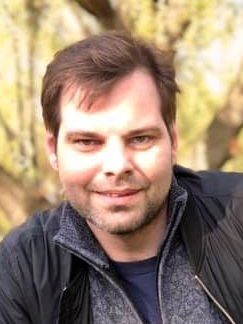 Alexey Belov
Professional Archicad Trainer and Localizer
Alexey has an architectural education and practical experience in architectural design. For more than 10 years he has been localizing various Graphisoft products and materials for the Russian-speaking market.
BIM Author Program
| | |
| --- | --- |
| | This course is part of Graphisoft's BIM Author Program that offers foundation and advanced level courses and learning paths that help you become a confident Archicad user and a Certified Archicad BIM Author. Learn more about the BIM Author Program here! |
---
Have Questions?
Contact us at learn@graphisoft.com! 
Here is the course outline:
Get familiar with the course outline and the agenda. Download the exercise files and the handout documents to be able to follow the course along with the trainer.
In this module, we will explore the detailed settings of the PhotoRendering palette and review the key factors that influence the quality of renders. Gain a deeper understanding of how to optimize settings for achieving high-quality visualizations.
In this module, you'll learn how Global Illumination works. Also, we'll dive deep into the various Cinerender mechanisms available and explore the results obtained from different combinations of these mechanisms.
In this module, we'll explore the diverse range of lighting options in Archicad. You'll learn how to effectively simulate various types of natural light, including the sun, physical sky, and HDRi sky. Additionally, we'll discover different general light sources and gain insights into illuminating surfaces for optimal visual impact.
Sampling and Shadow Casting
In this module, we'll look at sampling settings that affect the quality of rendering and allow us to get rid of artifacts that occur when there is insufficient or too bright lighting. We then learn an important setting that controls shadow casting behind transparent objects and in reflections.
This module discusses the basic settings for Physical Rendering. You'll learn how to apply the settings used in real cameras to create realistic and physically correct renders. Also, you'll learn the various sampling modes available in physical rendering and understand the advantages they offer.
Please take the quiz in order to complete the course. You need to pass both quizzes to get the course certification.
Surface customization is a very large and interesting topic. In this module, we'll talk about the key settings within each surface channel, unlocking the ability to create realistic surfaces that accurately simulate a wide range of real-world materials.
In this module, we'll look at all the lighting effects that can be created with General Light Sources. Discover how to create captivating visual elements such as visible light, caustics, lens flares, and more, breathing life into your visualizations.
In this module, we'll step into realm of artistic effects. You'll discover techniques to enhance the realism of visualizations or transform them into comic book-style illustrations or vintage photographs. Explore the application of basic color correction and learn how to achieve balanced lighting in your renderings.
In this module, we'll look under the hood of Cinerender. You'll study the settings collected in the General Options section of the PhotoRendering Settings palette. You'll understand why these settings have a significant impact on the quality and speed of rendering.
Please take the quiz in order to complete the course. You need to pass both quizzes to get the course certification.
Thank you for completing this training! Please fill out the anonymous satisfaction survey so we can continue improving our training materials!
Completion
The following certificates are awarded when the course is completed:
| | |
| --- | --- |
| | INT_Trainer-led_Online_Course_Certificate_of_Attendance |