Read in other languages:
What is the Graphisoft Learn Portal?
The Graphisoft Learn Portal is the official know-how and learning website of Graphisoft where you can access courses and downloadable learning materials related to all Graphisoft products (Archicad, BIMcloud, BIMx) and BIM in general. We are constantly expanding our offering therefore we recommend you to check back on a regular basis for our new courses!
What kind of courses can I enroll in?
You can find self-paced courses where you can study in your own rhythm, you can sign up to online instructor-led or blended training programs offering the combination of the former two. You can find also downloadable e-books on this site. We differentiate these course types in the Catalog. 
How can I access discounted or free content for users with Forward or Software Service Agreement (SSA)?
On this platform, we offer discounted or free access to certain courses for clients with an active Forward or SSA status. Any user whose Graphisoft ID is connected to a company with Forward or SSA status is automatically issued a coupon that can be redeemed for discounted or free courses and downloadable know-how materials. 
What are the Forward and Software Service Agreement (SSA) programs?
Forward and SSA are the international programs for Archicad users to always get the latest Archicad version, often complemented with training materials and services, technical support and other benefits.
SSA might be known by the following names in your country:
ARCHICLUB
KeyMember
UAS
ARCHIPLUS
Select
How can I check my Forward or SSA status?
Click on your profile in the top right corner next to the search magnifier, open the 'Info' tab and check if the value of the 'SSA' field. If the value is set to 'Yes' then you are either a Forward or an SSA client.
How can I fix my Forward or SSA status if it's not correct?
If you are a Forward or an SSA client but your status in your profile states otherwise, it is possible that your license is not connected to your Graphisoft ID or you are not joined to your Graphisoft ID Company. To connect your license or join a Graphisoft ID Company, please follow the instructions of this Graphisoft Community article!
How do I use a coupon code?
In certain cases you might be offered a coupon code which allows you to purchase courses or other items on a discounted price or free of charge.
To use a coupon please follow these steps:
1. Navigate to a course/item that you would like to enroll in.
2. Put it into your shopping cart using the 'Apply coupon or purchase for...' button.

3. In your shopping cart, use the 'Apply coupon' button.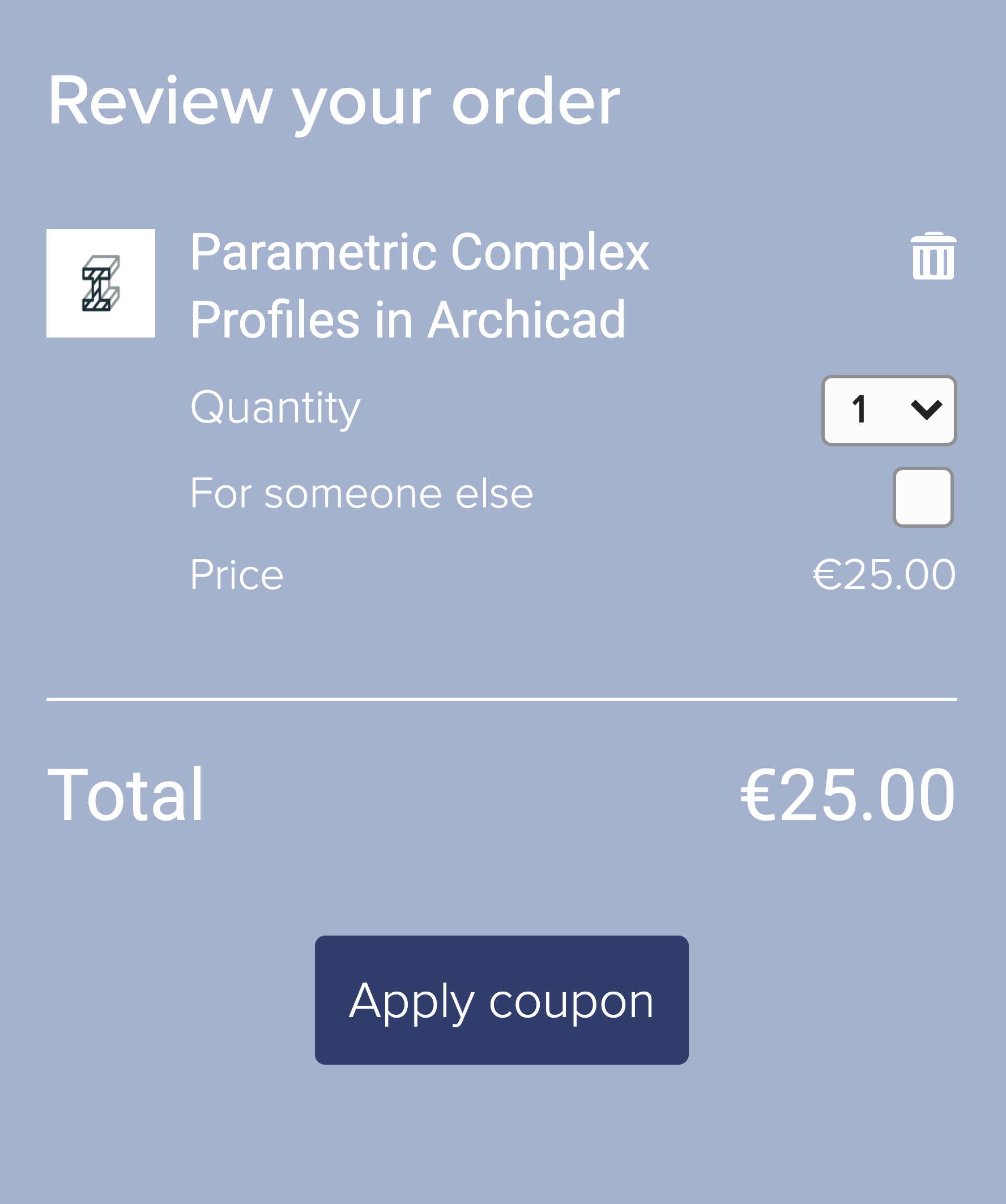 4. Enter your coupon code.
5. Purchase the course/item with discount or free of charge.
What is the difference between a coupon code and access code?
With an access code you can directly get access to a course while with a coupon code you can purchase a course with a discount. For redeeming a coupon code which provides you discounted or free access to certain items you must follow the steps detailed at 'How do I use a coupon code?'.

What is Graphisoft ID?
Graphisoft ID (GS ID for short) is a unique identifier, based on users' email addresses, to allow unified login to various web systems (license management, Learn Portal, etc.) managed by Graphisoft. Each user only needs one Graphisoft ID to login to multiple websites. To learn more about the Graphisoft ID, check this Help page
Where can I download the invoice of my purchase?
You can find your purchases in your 'Profile' > 'Purchases' tab from where you can download the invoice of your purchases.
How can I add company information to the invoice (company name, company address, VAT ID, etc.)?
To include Company information into your invoice, please fill out the appropriate fields in your 'Profile' > 'Info' tab by clicking the 'Edit' button and generate your invoice once again.
How can I purchase courses for someone else?
Sometimes it can happen that you would like to buy a course (or for example a seat for the BIM Manager Program) for your colleagues. Whenever you would like to purchase something for someone else, you have to tick the 'For someone else' checkbox in your shopping cart.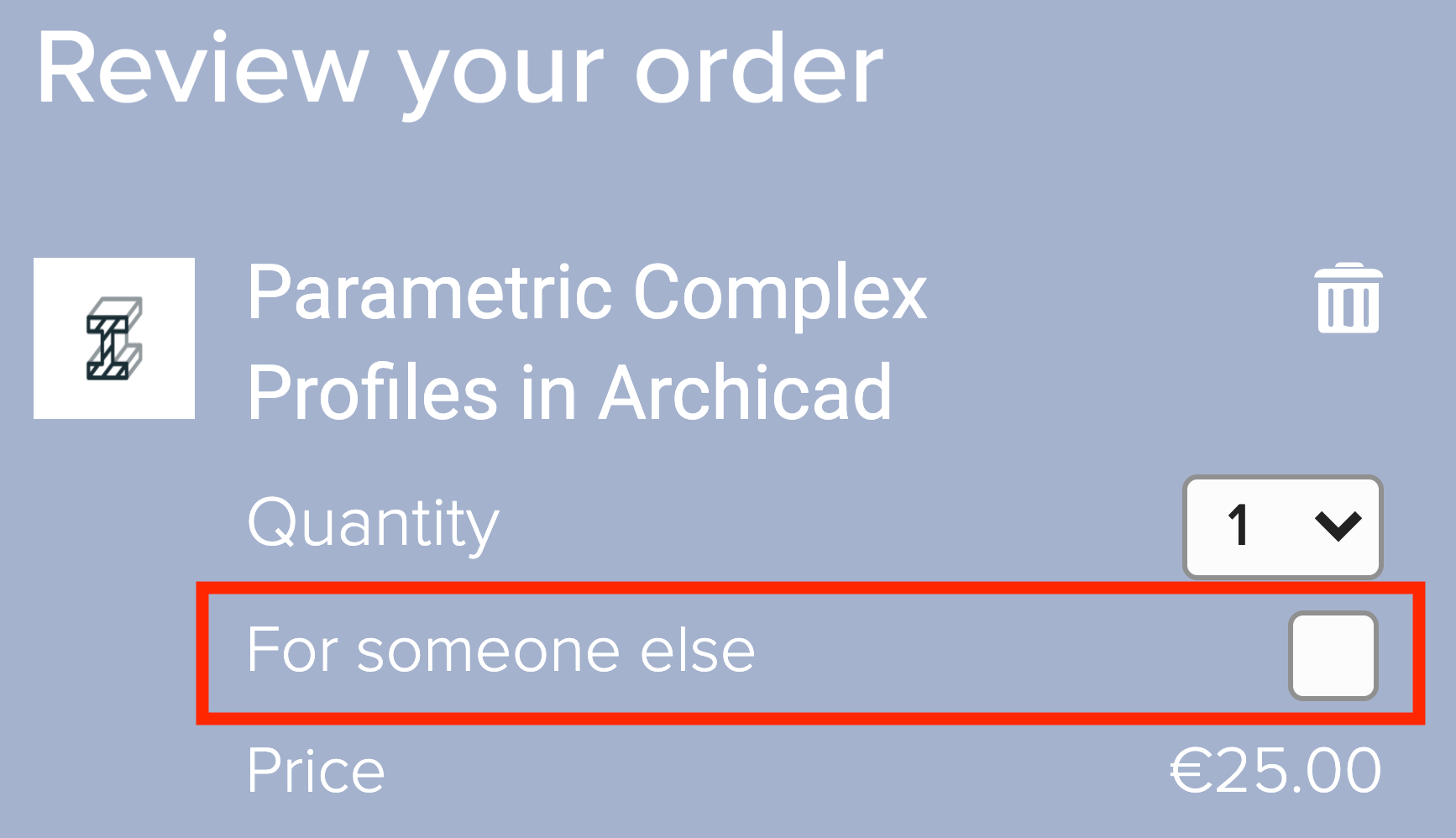 After completing the purchase you can transfer the course for your colleagues who are already signed up to the Learn Portal or send them a bulk e-mail with instructions on how to enroll in the course.

Can I get a refund on my purchase?
Please check the Terms and Conditions regarding the refund policy. 
How can I unsubscribe from all e-mails from the Learn Portal?
You can unsubscribe from all e-mail communication from the Learn Portal by customizing your Message configuration. To do this follow the steps below:
1. Open your Messages in the top right corner
2. Click Configure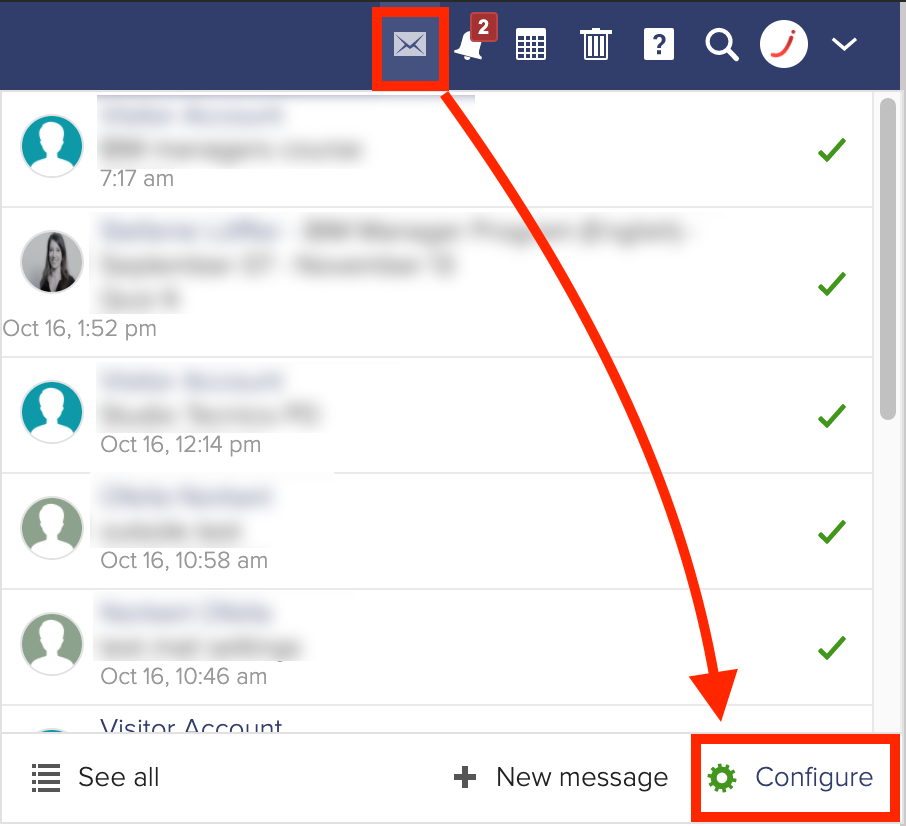 3. Change your e-mail settings to No, All, or Digest (daily one singe e-mail)