▶︎ Format: self-paced online course
▶︎ Level: advanced
▶︎ Duration: 2 hours

Learn everything there is to know about BIMcloud. From a basic overview to under the hood technical details!

For Graphisoft and Partner employees only! Use your usual partner coupon for FREE access!

Course Goal
Noémi Balogh - BIM Expert, GRAPHISOFT
Ed Brown - BIM Consultant, GRAPHISOFT
Dániel Kovács - BIM Consultant, GRAPHISOFT
Máté Marozsán - BIM Consultant, GRAPHISOFT
Brieuc Tassel - Professional Services Consultant, GRAPHISOFT
Badges and Certificates
Completing the course will earn you the BIMcloud Expert Certificate for Partners and the BIMcloud Expert Badge.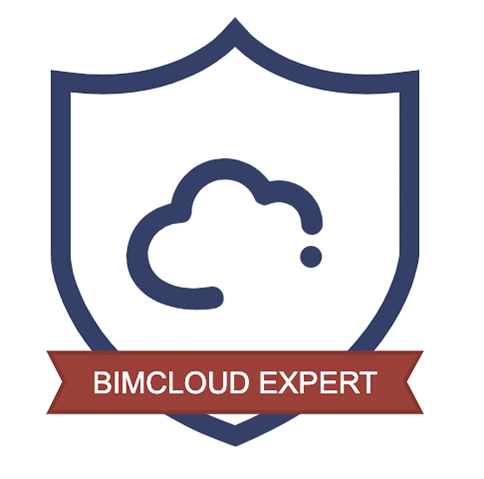 Here is the course outline:
Welcome to the BIMcloud training. In this module you will learn about the training content as well as its objectives.
2. Introduction to BIMcloud
Let's get started with the BIMcloud offering, what are the differences between the products, licensing comparison, feature checks, ... all necessary information will be covered in this module to understand our portfolio when talking about BIMcloud to clients. In the second section you will also get a very brief overview of how BIMcloud works and which components it is composed of. While in the third section we will talk about the Feature Set, and more specifically about those features that are unique to the paid versions of BIMcloud.
3. BIMcloud Implementation
Implementing BIMcloud at a customer is not always easy, we have what you need.
Follow Noémi while installing BIMcloud for the first time and make yourself familiar with each step of the installation process.
Daniel is going to tell you everything there is to know about User Management within BIMcloud. From Simplified to Detailed permissions nothing will be left aside in the next 2 sections.
Get an overview of the network requirements to get BIMcloud running and some basic must-have network knowledge.
7. Data Safety & Security
Learn why data safety and security is important in BIMcloud, and how you can ensure customers' data is safe.
8. Requirements & Compatibility
What are the software and hardware requirements you need to consider before going ahead with implementing BIMcloud.
File Management is critical in BIMcloud as you can manage any type of file formats and organize you projects with BIMcloud projects using Teams. Follow Máté in the next 5 Sections to know more about how to properly manage your files within BIMcloud.
Sometimes things turn out differently than we expect them, and we experience issues with BIMcloud. Learn what you can do to get back on track as soon as possible.
Completion
The following certificates are awarded when the course is completed:
| | |
| --- | --- |
| | INT_GRAPHISOFT Partner Training Certificate |